Patient Testimonials
Professor James Campbell, Anterior Hip Replacement
Why and How I Chose Dr. Phil Kregor, and Why I'm Happy I Did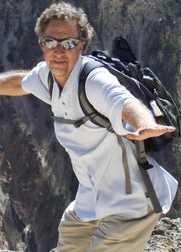 I started suffering from osteoarthritis in my hip in my 40's. I'd always been active, playing basketball, bicycling, and working out, and I was an avid summer (mountain) hiker. As my hip became more painful and less mobile I worked with an orthopaedic surgeon in Memphis on managing the pain, mostly through anti-inflammatory medicines, occasional cortisone shots, and stretching; but the pain kept coming and the cartilage kept going. Around age 50 I started having a difficult time driving home from work without stopping the car to adjust my hip, and I almost never slept through the night due to the pain. I gave up basketball and took up golf, but that too became difficult. My surgeon told me I probably needed a hip replacement- an idea I first resisted, but soon came to embrace. I started interviewing surgeons in Memphis. I also spoke with my friends about my experience, and coincidentally one of them, almost exactly my age, had needed surgery on his hip (due to an auto accident) which included a replacement. He had chosen Dr. Kregor, who was in Nashville, and recommended him highly.
The surgeons in Memphis, while I'm sure are quite competent, were hardly even available for consultation, sometimes requiring a month's notice for an appointment. My friend, meanwhile, just gave me Dr. Kregor's cell phone number, and told me to call him. I was incredulous; I did not think any surgeon answered cell phone calls from patients!
So I called him, and we talked. He asked me some pointed questions about my hip, lifestyle, body type, and intentions, and I asked him some equally pointed questions about his technique, and his experience. It was a great conversation with a huge amount of information exchanged. It turned out that his technique (anterior), combined with the well-designed surgical table that he used, was both the least invasive and most modern of all the techniques available to me among the doctors I interviewed. (The table offered the surgeon better access during surgery, and the chance to look at my leg lengths with xray during the surgery. Because of this, my leg lengths could be brought to almost a perfect match.)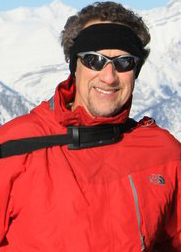 After I sent Dr. Kregor an x-ray and we spoke again on the phone, we agreed to proceed with the hip replacement, even though I had to travel to Nashville. It helped that he was on my insurance network, of course; but none of the three surgeons I interviewed in Memphis offered the skill or personal touch that Dr. Kregor did.
The surgery went extremely well, I stayed in the hospital only 24 hours afterward, and then we drove home. Recovery was, for a few days, difficult. I used a walker for about three days, then switched to a cane for about 4 more days. During this time I was extremely glad to be able to reach Dr. Kregor by phone. We had many enlightening and useful conversations about my progress and problems.
After only about a week, I was up and walking around the block. A physical therapist came to my home for two weeks. After that, I was able to drive to a local physical therapy center, which helped expand my therapy and speed my recovery, which by then was going quite well. On the 35th day after surgery I was on the golf course, playing 18 holes…riding in a cart, but I didn't care! I was out there!!
The anterior approach has the advantages of only producing a single scar, and incurring minimal muscle damage. This, I think, contributed to my rapid recovery. The scar itself is small and not even visible when I wear a swimsuit. I would recommend this approach to anyone. I was on pain medicine for about 5 days after surgery. For a month after that I occasionally needed short-term pain relief (for which I had a prescription) but since then my pain has been nothing more than the usual pain every 50-something experiences in daily life.
For me, the hip replacement has been a life-saver. I went from being an almost invalid back to the active person I had been. I don't play basketball (there is some danger of dislocation which I don't care to risk), but my golf game is better than ever, I bicycle whenever I can, I work out, I dance, I hike. I hardly notice my hip. The noticeable differences are minor and manageable: certain workout moves I need to cut back on; and on really cold days I can feel something but it's not painful, more like a gentle throb reminding me that I have a piece of metal in my body. Other than that it's a full go.
The one aspect that made the whole experience exceptional (and believe me, I had some trepidation going in) was the skill and care of Dr. Kregor. I was always able to reach him when I needed him, he made an effort to make me understand as much of the process as possible, and treated me in a personable and humanistic manner. And judging from the results, his skill as a surgeon is considerable. I recently received independent confirmation of this: I visited an orthopod for another matter and he x-rayed my hip as part of the examination. "Kregor did a good job on your hip", he said.
Cheers,
James T. Campbell, PhD
Professor
Department of Mathematical Sciences
University of Memphis
Memphis, Tennessee
---
Joseph Adam Queen, Fracture Care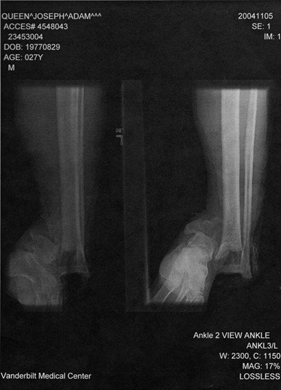 On November 5th 2004, I was involved in a serious motorcycle accident that left me with a compound fracture of my left tibia and fibula and dislocation of my ankle. I knew it was serious when they called in a helicopter and the paramedic described it as a "partial amputation". I was airlifted to the ER and I was concerned that even if I didn't lose my foot I was going to be left with limited mobility at best. Dr. Kregor's professional demeanor and positive attitude helped to ease the anxiety that my family and I were experiencing. Over the next couple of weeks Dr. Kregor performed a total of 3 surgeries to repair my ankle. I followed up with Dr. Kregor as directed and worked the physical therapy. It was a slow process riddled with frustration, but within a few months I was cycling, not just on the physical therapy stationary bike, but outdoors the way cycling was intended. Fast forward to today. I've been able to complete, even podium, many cycling challenges and endurance races to include road centuries and 100 mile, 12 hour, and cross country mountain bike races. I've even started running again and just completed a 5k.
I'm grateful to be where I am today doing the things I love. Though Dr. Kregor recently reminded me that I was the one who put in the years of hard work compared to his hours of hard work to fix me, I can't help but think that things could have very easily ended up differently for me if not for the knowledge, skill and professionalism of Dr Kregor.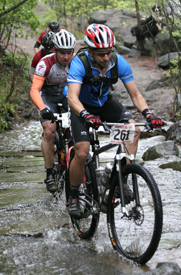 Joseph Adam Queen
Clarksville, Tennessee
Air Traffic Control Specialist
Cycling Enthusiast